Bold Rangers JFC

Bold Rangers JFC
"WE ARE BOLD"
Bold Rangers U14s Spitfires - Bold Rangers JFC
Team
Bold Rangers U14s Spitfires
Welcome To The Bold Rangers JFC U14'S "Spitfires"
Welcome to the Bold Rangers JFC under 14s team which will be playing in the Warrington Junior League this season. This is their fourth year together at Bold and we wish them luck for this season. The Under 14's is a great bunch and always work hard for each other.
They will be managed by Martin Mather and Stu Hallwood and assisted by Dave Mather
The Under 14's will sponsored by UPS for the home kit
UPS Building Maintenance was established in May 2007 and have recently re located to a large new premises in West Lancashire. The new offices are situated close to the motorway networks allowing us to easily deliver our services to clients across the Northwest and Wales.
Customer services is our core focus at UPS and this is something that is monitored and instilled from the director's right down to the apprentices. As a growing business we have found that a happy and satisfied client is all the advertising we need to keep our business moving in the right direction. http://www.upsbuilding.co.uk/
The Away kit will be sponsored by Rutland Veterinary Hospital, St Helens
Rutland Veterinary Hospital is based in St Helens, Merseyside, we are not a corporate company but a Veterinary Hospital owned by 3 veterinary surgeons, offering professional veterinary and referral service both locally and nationally.We are happy to help you locally with any queries, advice or support on veterinary services that you may require. Our fully qualified veterinary and nursing staff offer the highest level of medical and surgical skills from our Veterinary Hospital and Referral Centre in St.Helens so you can be assured that your pet will always be well cared for.We have local branch surgeries for your convenience and late night/weekend opening times to help accommodate your busy lives.Our appointments are for 15 minutes as standard (50% more than other vets), as we believe this provides better quality of care & understanding
The Under 14's would like to thank the sponsors for their generosity and for allowing them to continue playing grassroots football.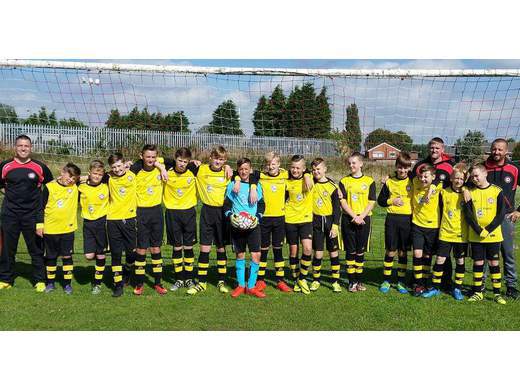 "Spitfires"
Follow the site to get the latest news and results straight to your email